It's very seldom that one can speak of saints quite literally. This then, is a rare occasion. On Sunday, 4th September, 2016, amid the cheers of a crowd of several thousands, Mother Teresa of Calcutta was canonised by Pope Francis, in a beautiful ceremony at Vatican City.
The Pope spoke of Mother Teresa's noble and selfless service throughout her life, which he said she had dedicated to "bowing down before those who were spent, left to die on the side of the road, seeing in them their God-given dignity." Born in Skopje, then a part of the Ottoman Empire, Mother Teresa arrived in India in 1929 with the Sisters of Loreto and made India her home until her death in 1997. She set up the 'Missionaries of Charity' order in 1950, whose purpose, she said, was to care for "the hungry, the naked, the homeless, the crippled, the blind, the lepers, all those people who feel unwanted, unloved, uncared for throughout society, people that have become a burden to the society and are shunned by everyone." She was a global ambassador for India and was awarded the Nobel Peace Prize in 1979, of which she humbly said she was 'unworthy'.  The process of her canonisation was expedited by Pope John Paul II and finalised today by Pope Francis to the joy of many millions around the world, whose lives she touched.
Meanwhile, back in Delhi, even as people watched the canonisation ceremony live on TV, two other souls were finding their saviour. I had received a message a few days ago, about two labradors whose owner had suddenly realised that dogs grow and require care and that he could not provide that. So, they were up for adoption. I just happened to think of a friend of my parents, who has a particular soft-spot for labradors as well as a gorgeous farmhouse, staff, etc., all the trappings for a perfect home for them. So I reached out to him and he made the necessary calls and agreed to having himself and his home "checked out". As it happened, the lady who was in charge of the adoption failed twice to keep her appointment to go and meet the family and that was that. I apologised to them on her behalf and said that I'd let them know if another such case came about.
It did. Just two days later. A golden and a black labrador, both a year-and-a-half-old, were being kept caged by their owner who didn't want them anymore because their daughter-in-law didn't like them. I timidly approached our friend again and to my surprise and delight, he again stepped up, called the number given and arranged to meet the dogs the following day. And so, on the very auspicious day of the canonisation of Mother Teresa, these two lovely dogs were introduced to our friend and shortly after, drove away with him to a home where another older labrador awaited them and where I am sure they will find all the love, comfort and care that had been denied them.
Rewind to earlier in the week to a separate incident. A golden labrador, believed to be about three-years-old, was dumped outside D.A.V. School, Vasant Vihar, along with a carton full of his medicines and other belongings. He has been rescued by some very competent people who are taking care of him and will eventually find him a suitable home, but every time I think of the picture of him sitting there on the roadside, it tears me apart to imagine what he, and any other abandoned or lost pet for that matter, went through.
Whether abandoning an animal is better, worse or equally deplorable than abandoning a human being, I think just depends on one's perspective. Since there are many to plead the case of the humans, let me try to offer an insight in to the animal's thoughts. Try and imagine finding yourself all alone in an unfamiliar world, devoid of all that is familiar to you. Unfamiliar place, unfamiliar faces, unfamiliar food, unfamiliar sounds, unfamiliar commands and demands (if you're lucky enough to be rescued), hell, maybe even an unfamiliar name. Imagine being amongst a different lot of a different species, whose language you don't understand, who are taking you places and calling you by a name you don't recognise, but you can't even tell them who you are. So, in addition to your family, your home and your sense of security, you lose your identity too. Just like that. That, I imagine is the predicament of the poor creature someone has just had enough of.
These animals too, are very much amongst, "the hungry, the naked, the homeless, the crippled, the blind, the lepers, all those people who feel unwanted, unloved, uncared for throughout society, people that have become a burden to the society and are shunned by everyone." There is no excuse for us to inflict such suffering on them.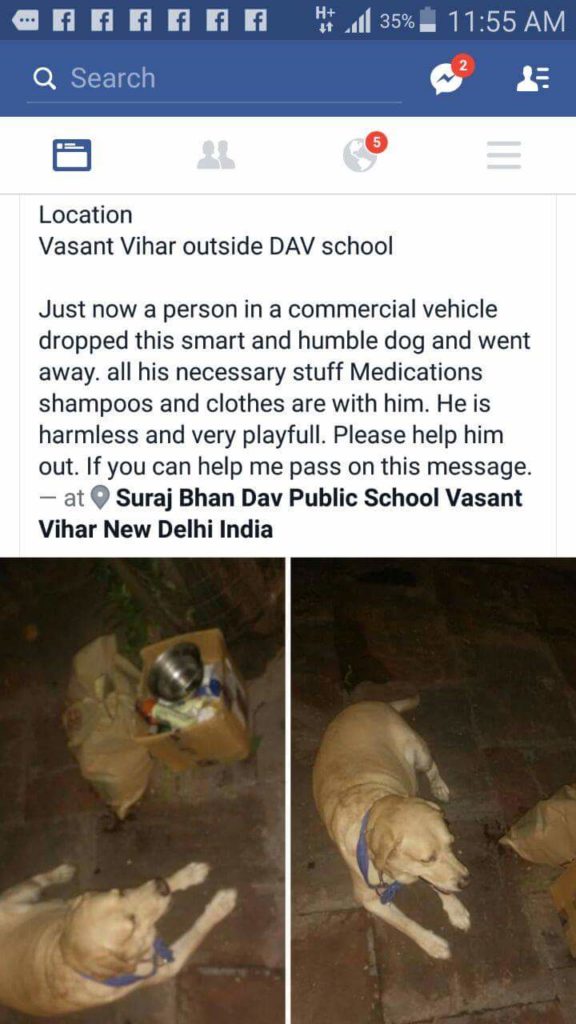 I hope the person who left this dog gets to see this and has some sort of epiphany, of how a thoughtless act can destroy someone's world altogether, humans and animals alike.
While the story of the two dogs who got adopted has a happy ending in sight, once they have settled in to their home and the world starts to make some sense to them again, there are many more, waiting for someone who will recognise their God-given dignity. Someone who will be to them their savior, saint and God. They revere us without judgment asking merely for our love and acceptance. Can't we find the saint inside of us?