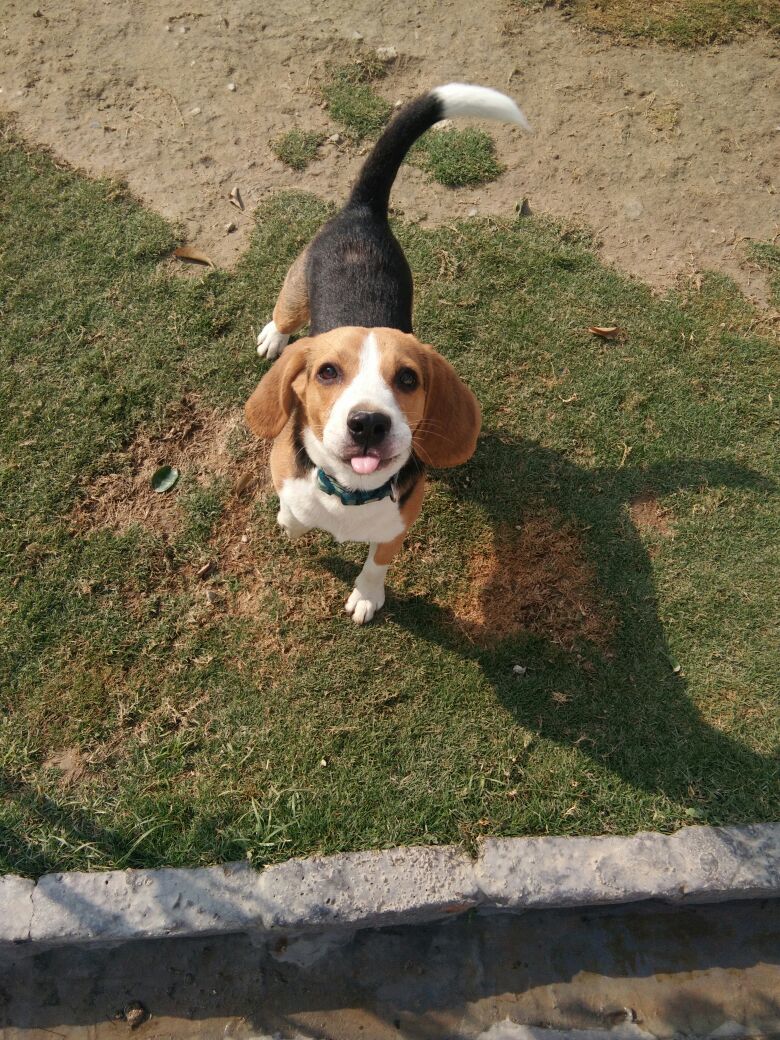 A few months ago, while at the local beauty salon and in the course of some polite chitter-chatter, the beautician mentioned to me that she had recently got a puppy. "Oh how nice!", I said, asking what breed the puppy was and hoping she'd say it was a local desi dog whom she had rescued. When I heard it was a Beagle, I gave her my number and told her to call me if ever she decided she didn't want him.
"No, no. We are very fond of him", she said, telling me all about his daily antics. I smiled. "Just keep my number…in case you ever change your mind".
A couple of months later, the call came. Whisky's family were not very well-off and when all of them went out to work during the day, there was no one to watch him. He would howl through the day, locked up in a small apartment. So they realised he would probably be better off in a larger home and with people always around him.
My plan for such a situation was very simple and straight-forward. There is a wonderful lady I have come to know well, who runs a great place where rescued dogs or others in need of a home are kept in a very dignified, hygienic and happy environment while she finds them a befitting home. By her own admission, her vetting process (no pun intended), often puts people off, but I agree with her completely that if someone who ostensibly cares about animals is unprepared to convince her that theirs would be a home where the animal would be respected, loved and looked after and that they have the space, help, family consent and finances to be able to do so well, how can they possibly be relied upon? So, I thought I'd send Whisky to her and that she would find him a super home and we'd all live happily ever after.
If only I'd stuck to the plan. Instead, I remembered a friend with an old, female beagle was looking for a male pup to keep her other dog company. When I checked with her if she wanted Whisky, she said she unfortunately couldn't take in a new dog at the time but she pleaded with me to get him out of his existing home as soon as possible. She would keep him with her and through her work with a very well-known animal welfare organisation, she thought they'd find him a good home very soon. I agreed.
I went to collect Whisky, who greeted me warmly and readily jumped in to my car. I felt very bad for the beautician's young daughter who was there to hand him over to me. I hugged her as she cried and promised her I would find him a wonderful home where he would be very happy and that she could always check with me about him, if not even get to see him.
Off we went to my friend's house, where her Beagle and Whisky hit it off pretty quickly and were chasing each other around the garden and in and out of the house, in no time. I secretly hoped my friend would change her mind and keep him.
Alas. A few days later he was sent to a foster home, arranged by the welfare organisation. It was a group of college students who shared an apartment and someone was always there with him but they didn't have much experience with dogs and were finding it hard to manage a confused, young, naughty little puppy. I wasn't happy.
Then I learned he had been adopted by a rich family who had a large house in a posh, South Delhi neighbourhood. The girl had apparently been looking to adopt a rescued Beagle for a long time and had begged and pleaded for Whisky to come to her. I decided to call them in a day or two to check on him, since I felt he was my responsibility, having promised his first, young little owner.
Imagine my surprise and horror when I saw him the next day, totally per chance, on facebook, up for adoption. The post didn't give his name and I couldn't really recognise him from the picture but it seemed uncanny for another Beagle of the same age to be looking for a home at the same time. I made desperate enquiries and my fears were confirmed. Whisky was up for adoption. Again. When I spoke to the man who had put up the post, I found him completely unapologetic. His sister was the one who had been wanting to get Whisky but she hadn't thought to check with their mother, so when he arrived at home, the lady of the house threw a right, royal fit. The man insisted that they were a family of great animal lovers but then also informed me that the staff had left Whisky in the living room all night. It was all I could do not to lose my temper, especially not before I had rescued the poor dog, who was clearly in the wrong place. I was very angry with the organisation too for having let this adoption get so botched up.
I wanted to get him back immediately but the friend whom I trusted to find him a good home couldn't pick him up that evening. Where would he spend the night? A lady had responded to the facebook post and they had pretty much decided to give him to her before I jumped in to the picture and they realised they would need my ok. In my desperation for him not to go to YET another foster home, I decided to check out the lady myself. She seemed very nice. I went to pick her up and then to get Whisky. They appeared to bond well in the car ride back to her house. Her maid was another story, completely unimpressed by him and devoid of even the basic curiosity which one would expect from someone when a new pup arrives home. But the lady assured me she would manage and all would be ok. It wasn't a large house. The help was not helpful. But the lady was kind and loving and the situation was a desperate one. So I left Whisky with her.
To her and her son's credit, for about a month, they tried to do the best they could for him. He was naughty, he would sometimes attack their other Beagle, they had to toilet train him, etc., etc. and they gladly did. But things weren't settling down and I didn't like the reports I was getting so I asked her if she wanted me to ask my friend to find him a home. "Not yet", she insisted over and over again. Then finally, she tearfully asked me to go ahead.
The very next morning, she messaged to say Whisky had been adopted. A family driver had recommended someone and in a moment of utter madness, she had gone and given Whisky to him. Within a day, he had been passed along to another driver in Karol Bagh. I was livid. I persuaded her to get him back and early the following morning, she handed him over to my friend. My original plan. I paid for his boarding- the least I could do for this poor, sweet dog who had changed five homes in one month. The thought of how traumatic it must have been for him made me cry and kept me awake at night. Now, finally, he was in safe hands.
Whisky now has a new home, a new family (including a lovely, black Labrador with whom he gets along famously), a nice, new red coat and a new name. He has settled down very well and is loved and cared for. He sleeps a lot and is calm and relaxed, quite unlike how he was before. He probably realises he is finally home. May his worst days be far behind him.